You know how important it is to work on oneself, to strive to improve and become a better version of who you really are. We know that too!
That's why we've done the work and made huge improvements to our HOLOS formulations and packaging, and we're excited to share them with you! From packaging to formulations here's what we've been working on:
Vanilla and Cocoa have new superfoods.
We truly obsess over every milligram of every ingredient and are always keeping an eye out for new discoveries. That's why we switched maca to other superfoods in the vanilla and cocoa flavors for culinary purposes.

HOLOS Vanilla now has ground vanilla beans and lucuma powder, a fruit-derived superfood that is a perfect smooth mix with vanilla, and HOLOS Cocoa now uses beet superfood powder which enhances the richness of the cocoa flavor. Now, you'll be able to order these two new classics!
Time to Chai something new!
HOLOS Chai now contains ground clove, star anise, and cardamom spices in addition to the ground cinnamon and ginger spices, which was already used in our original blend. This change brings us one step closer to the authentic taste of a traditional chai spice mix, offering a rich and complex flavor that's sure to please any tea lover. Plus, using real spices adds a ton of antioxidants. Functionality meets taste in the reinvented Chai flavor, which is now available as well!
A greener ink on our packaging.
One of our core beliefs is to be here for each other and for the planet. Our packaging remains recyclable, but we now use polymer-based inks, which do not contain any hazardous air pollutants (HAPs)³. These inks consume less energy and emit fewer greenhouse gasses than solvent-based or UV-curable inks used in traditional flexible packaging³. Same good old recyclable pouch, but with a greener ink on them.
__
Woah, our team hasn't been napping for the past months! Don't snooze either and start your morning with the right intentions – and the right breakfast! Step up your breakfast game today, with our improved recipes and packaging!
Lost in the new HOLOS world? You can always consult our nutrition facts and ingredient list directly on our website!
(3) Epac: Focus on sustainability. Retrieved October 18,2022 epacflexibles.ca/sustainability-solutions/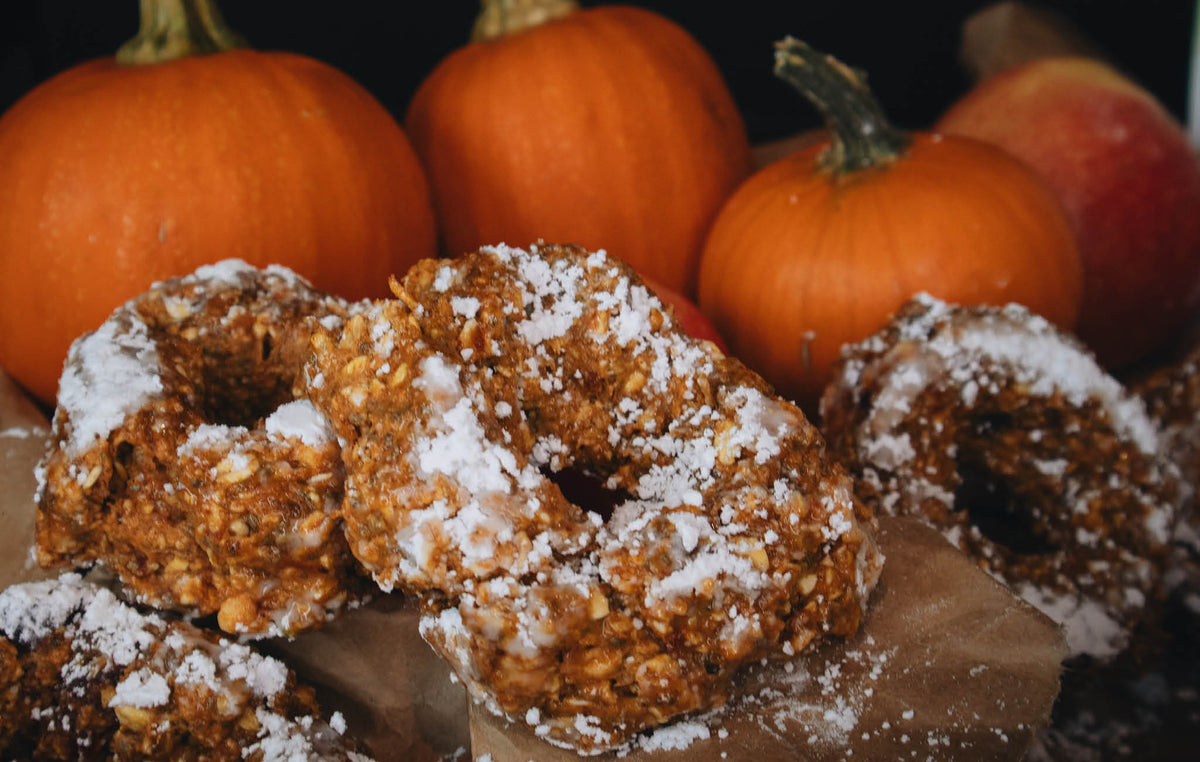 Pumpkin Spice Day Delight: No-Bake Protein Donuts Recipe
In honour of National Pumpkin Spice Day, we're celebrating with a delicious and cozy recipe featuring our beloved Apple + Cinnamon overnight muesli! These no-bake donuts are not only an explosion o...
Read more
All articles