SALTED PEANUT BUTTER & BANANA MUESLI- OH MY!
Is there such a thing as too much Maple? Don't ask a Canadian because the answer will always be no. This recipe has it all, maple, peanut butter and a hint of sea salt - can you say yum? This is a protein-rich, refined sugar-free breakfast that could actually pass for dessert. Sound good? Let's get started!
* Finished recipe is for two servings (two HOLOS packages).
PART ONE: GRANOLA
The day before you want to indulge in this decadent muesli concoction you'll want to make your granola.
Preparation: 15 minutes Bake time: 25-30 minutes
INGREDIENTS: yields 10-12 cups
Dry Ingredients:
4 cups rolled oats, gluten-free if necessary
1/3 cup desiccated coconut
1 cup coconut flakes
½ cup pumpkin seeds
½ cup sunflower seeds
½ cup raisins
1 cup raw almonds, chopped
½ cup raw walnuts, chopped
1 tsp cinnamon
3/4 tsp sea salt
Wet Ingredients:
120 ml maple syrup
120 ml coconut oil
1 tsp (5ml) vanilla extract
1 tbsp cacao powder
METHOD
Preheat oven to 320 degrees fahrenheit.
Add chopped almonds and walnuts into a large bowl.
Add all other dry ingredients and stir to combine. Set aside.
Place a small pot over medium/low heat. Combine all wet ingredients and stir until completely mixed. Remove from heat.
Add the wet ingredients to the dry ingredients and mix thoroughly so that the dry ingredients are moistened by the wet ingredients.
Spread out on two baking sheets and place in the preheated oven.
Bake for 20 minutes, remove from the oven and lightly stir.
Put back in the oven for an extra 10 minutes or until golden brown.
Let the granola cool completely before lifting off the sheets. Granola should chunk together
This granola will last in an air-tight container for up to 2 weeks.
PART TWO: HOLOS MUESLI
The night before, make your Peanuts + Maple HOLOS.
Preparation : 5 minutes. Leave overnight.
INGREDIENTS:
2 packages of Peanuts + Maple HOLOS.
500 ml milk of choice
METHOD
Prepare each package as usual in their HOLOS jar.
Place in the refrigerator overnight.
Your HOLOS is good for up to two days in the refrigerator.
PART THREE: CARAMELIZED BANANAS & LOGAN PETIT LOT DRIZZLE
The morning of, prepare these two items for toppings.
Total time: 10 minutes.
INGREDIENTS:
Caramelized bananas:
1 firm banana,
sliced 2 tsp coconut oil
2 tsp maple syrup
Pinch of sea salt
Peanut butter drizzle:
2 tbsp of LOGAN PETIT LOT Maple + Sea Salt Peanut Butter
1 tsp coconut oil
METHOD
Caramelized bananas:
In a nonstick pan heat coconut oil and maple syrup together.
Place sliced bananas in the pan.
Sauté for a couple of minutes until golden then flip. Remove pan from heat.
Leave aside.
Peanut butter drizzle:
Combine peanut butter and coconut oil in a small microwaveable bowl.
Microwave for 30 seconds and stir it to combine.
Leave aside.
PART FOUR: ASSEMBLE YOUR TASTY CREATION!
Finish your HOLOS masterpiece!
Remove HOLOS jars from the fridge.
Top muesli with 3-4 tbsp granola.
Place caramelized bananas on top of granola.
Spoon peanut butter drizzle on top of bananas.
Enjoy all that Canadian maple goodness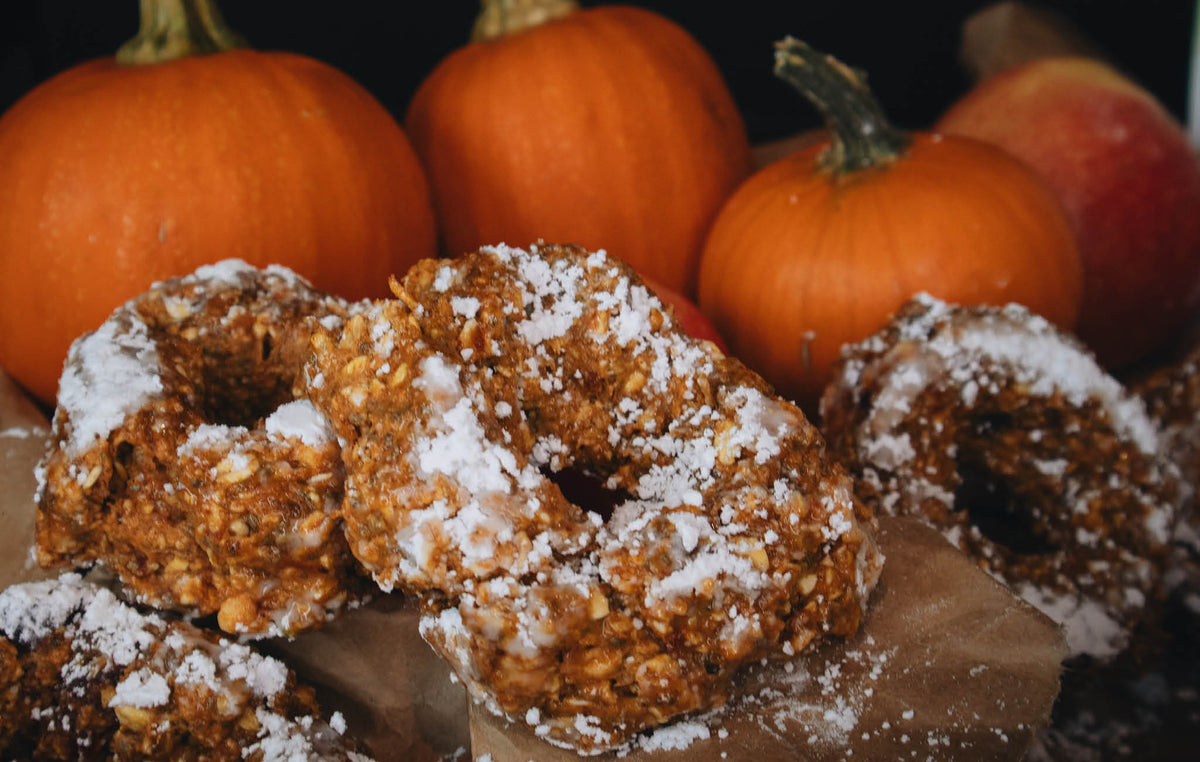 Pumpkin Spice Day Delight: No-Bake Protein Donuts Recipe
In honour of National Pumpkin Spice Day, we're celebrating with a delicious and cozy recipe featuring our beloved Apple + Cinnamon overnight muesli! These no-bake donuts are not only an explosion o...
Read more
All articles