Today is a big day at HOLOS since it marks the beginning of our first-ever Ambassador Program, something we've been working towards since we started the company back in 2016.
As our longtime community members know, we take all of our athlete-focused initiatives incredibly seriously; the people we align ourselves with have to reflect our standards and values. For our Ambassador Program, the bar was particularly high. It wasn't enough that the individuals shared our philosophy around holistic health, they had to actually live it every day. And they couldn't just be passionate and engaged in our core communities (trail running, for example, or cycling), they had to be committed to making a lasting, positive impact. And while we of course wanted athletes who compete at the highest levels, we also wanted to play a meaningful role in how they got there. Was HOLOS an impactful part of their nutrition journey? And were they reaching their goals in a healthy, sustainable way? This all probably sounds a little over-the-top, but we don't do anything half-way. And because our athletes are an extension of our brand, we felt they shouldn't, either.
In the end, we couldn't be more proud to announce our inaugural ambassadors, Maghalie Rochette and Abby Hall, two women at the top of their game who embody everything HOLOS stands for: strength, resilience, perseverance, and a determination to live life to the fullest. We look forward to supporting them on their journeys.
We're also honored to share this news on International Women's Day. For too long, women in sports have been overlooked and undervalued. By celebrating game-changing athletes like Maghalie and Abby, we hope to create a more inclusive, level playing field, and to inspire a new generation of women to pursue their athletic dreams.
More about Maghalie:
A cyclocross star from Sainte-Adèle, Canada, Maghalie grew up playing every sport in the book––from soccer to skateboarding to downhill skiing––but inherited her dad's love for biking through the mountains. At 18, on the tip of a friend, she enrolled in a cyclocross race and got hooked. Now, at 29, she's one of the biggest names on the Northern American and European circuits, a three-time Canadian Cyclocross champion and World Cup winner. When she isn't traveling to competitions with her bike, husband, and dog, Mia, she's hosting her podcast, Fever Talk, in which she interviews people who have turned their passions into careers.
But what really drew us to Maghalie is her ability to listen to her body and adapt to its demands. Currently, she's rebounding from an unusually tough year during which she contracted Covid for the third time, battled fatigue, and ultimately opted to take a break from training. "My body was asking for rest" she says. She also adjusted her food intake to simplify digestion.
"I was already a fan of HOLOS, but I discovered an even greater appreciation for it during this time. I feel so good and light when I eat it, and the different flavors make breakfast exciting."
When Maghalie finally returned to training, it was with a new sense of self-attunement. "I place more importance on resting and taking care of myself now," she says. "It's amazing how good I feel. I already see the results in my performance." Her HOLOS jar is always in her bag. "It's my go-to pre-race meal, my healthy breakfast during travel, and the muesli that accompanies me on bike adventures or VR races," she says.
More about Abby:
We love the way that Abby bets on herself. After working as a graphic designer for nearly a decade, she quit her job to run professionally full-time. It's working out: She runs for the Adidas-Terrex team and competes in Europe, placing second in the Transgrancanaria 126K last March and finishing third in the CCC 100K in Chamonix last August. In October, she won the Transvulcania 72K in Spain. She currently lives in Flagstaff, Arizona, with her husband Cordis who is also an ultra-runner. "He and I spend a lot of time on the road in our van," she says, and when she isn't racing, they're scouting multi-day hikes off the grid. "My soul's happy place is the Eastern Sierra in California."
Hall credits a lot of her performance abilities to her deep love of cooking and curiosity around diet. "I've been happily vegan for almost a decade, and if I'm not outside, I'm happiest in the kitchen," she says. Her energy levels are highest in the afternoon and evenings, which is often when she's outside training.
"Mornings are always a slower start for me. Having HOLOS on hand keeps them easy and effortless, but hearty enough to fuel the rest of my day."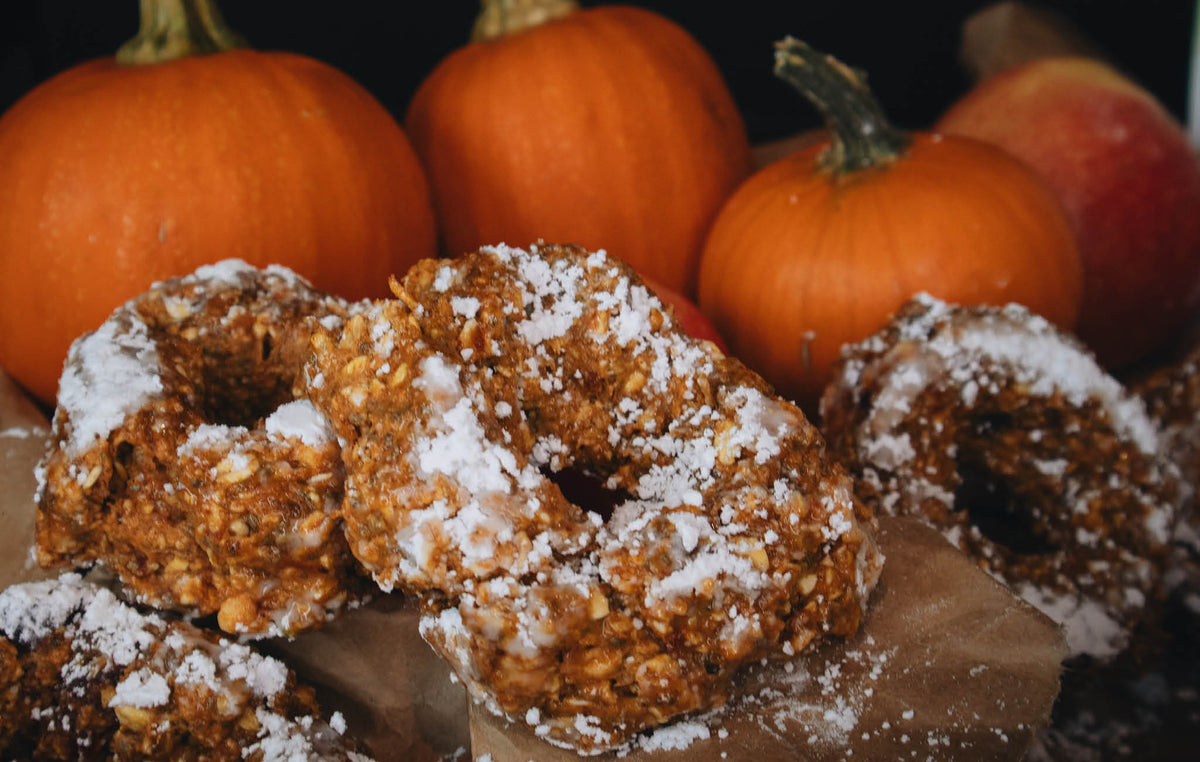 Pumpkin Spice Day Delight: No-Bake Protein Donuts Recipe
In honour of National Pumpkin Spice Day, we're celebrating with a delicious and cozy recipe featuring our beloved Apple + Cinnamon overnight muesli! These no-bake donuts are not only an explosion o...
Read more
All articles