Are you ready for Halloween? HOLOS has your candy bar situation handled. Treat yourself to these pumpkin dark chocolate bars that are so good you won't want to share with the kids. Made with the HOLOS Peanuts + Maple muesli mixed pumpkin purée and so much more, this heavenly & savoury snack is easy, vegan, gluten-free, refined sugar free and most importantly, 100% guilt free! No tricks here, like we said, treat yourself.
Recipe
Yield: 7 bars
Ingredients
BASE
1 pouch of HOLOS Peanuts + Maple
¾ cup almond flour
⅓ cup coconut oil melted
⅓ cup maple syrup
Pinch salt
CARAMEL
10 dates
¼ cup maple syrup
¼ cup pumpkin purée (can is fine)
1 tsp vanilla extract
2 tbsp cashew (or other) milk
Pinch salt
½ cup salted peanuts
TOPPING
1½ cup chopped dark chocolate
1 to 2 tbsp coconut oil
Maldon (or "fleur de sel") Sea salt
Instructions
BASE
Preheat oven to 350F°.
Take pits out of dates and soak in hot water for 15 minutes.
In a high-speed blender place one package of HOLOS Peanuts + Maple Muesli. Blend on high until you have a coarse sand like texture. To the blender add almond flour, maple syrup, melted coconut oil and salt. Pulse together until dough forms.
Place parchment paper in a standard loaf pan leaving parchment hanging off the edges. This will make removing the dough easy once everything has set.
Press dough into loaf pan and place in preheated oven for 12 minutes. Remove from oven and allow to cool completely. Place in freezer while you make caramel.
CARAMEL
Drain dates and place in high-speed blender. Add in maple syrup, pumpkin purée, vanilla, cashew milk and salt. Blend until creamy.
Spread caramel evenly on bottom layer (on top of the dough) and scatter peanuts over caramel. Place back in freezer overnight.
TOPPING
In a microwave-safe bowl place chopped dark chocolate.
Microwave in 30 second increments until chocolate is melted. Add coconut oil. Chocolate should be smooth and silky, not runny. If chocolate is too thick, add a tsp more coconut oil.
ASSEMBLE
Remove from freezer and lift out of pan using parchment paper.
Place on a cutting board. Use a hot knife to cut into one inch slices.
Dip into chocolate and use a spoon to coat completely. Place on parchment paper and sprinkle with Maldon sea salt.
Place back in the freezer until chocolate is hard.
*TRY NOT TO EAT THEM ALL AT ONCE.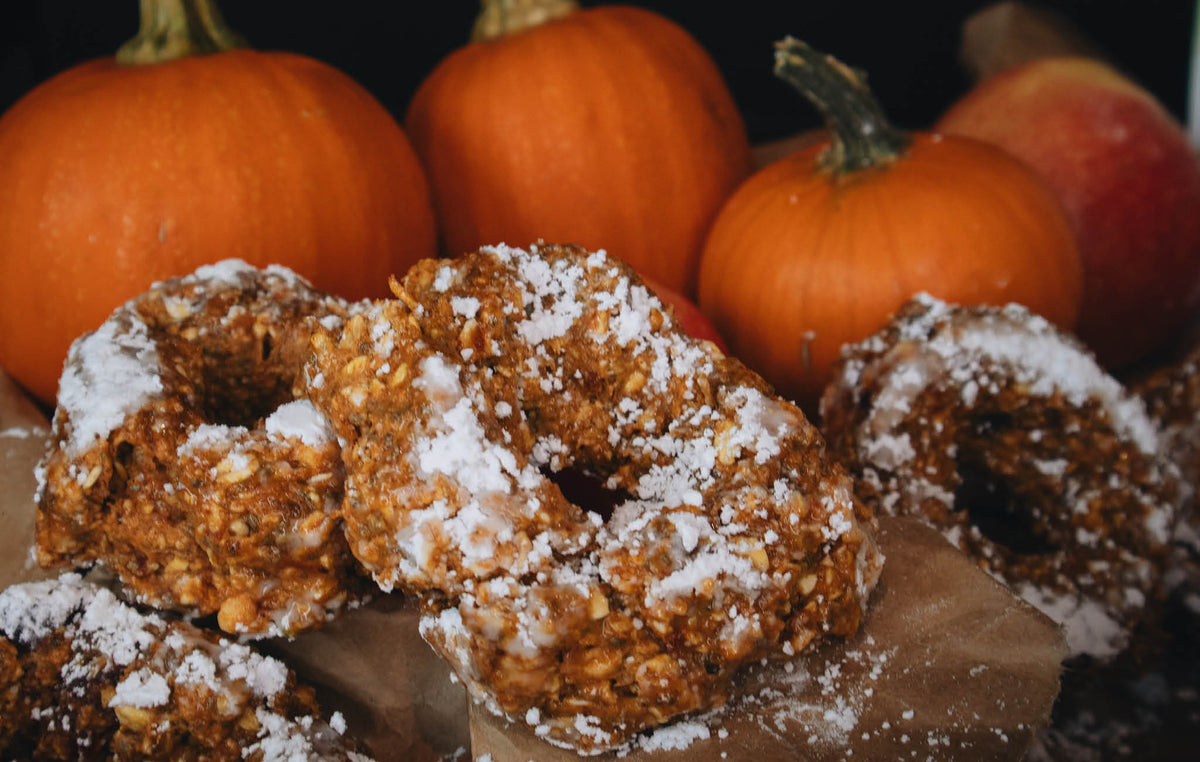 Pumpkin Spice Day Delight: No-Bake Protein Donuts Recipe
In honour of National Pumpkin Spice Day, we're celebrating with a delicious and cozy recipe featuring our beloved Apple + Cinnamon overnight muesli! These no-bake donuts are not only an explosion o...
Read more
All articles