If you haven't tried mixing your HOLOS with apple sauce yet, may we suggest starting with this lovely Apple-Rhubarb Crisp recipe?
We've come together with Applesnax applesauce to bring you this seasonal recipe that combines the benefits of whole apples, strawberries and rhubarb all into a delicious and easy HOLOS recipe. With extra flavour, fiber, nutrition and delicious, sweet fruit to the mix, you're going to love just how much this recipe tastes like apple & rhubarb crisp!
---
Recipe
Makes 2 servings
Ingredients
2 chai HOLOS packs
2 packs of Applesnax Apple or Apple & Strawberry Sauce
1.5 cups milk of choice
1 cup rhubarb, diced (about 1 stalk)
1 cup apple, diced (about 1 large apple)
1 cup strawberries, chopped
1 tbsp maple syrup
1 tbsp coconut oil
½ tsp cinnamon
½ lemon, juiced
Crumble topping:
¼ cup chopped pecans or walnuts
1 tsp coconut sugar
½ Tbsp melted coconut oil
Instructions
Mix your HOLOS Chai packs with milk and set in your fridge overnight.
When you're ready to cook your HOLOS recipe, prep your ingredients.
Heat a saucepan over medium on your stove and add the coconut oil.
Then add the apple, rhubarb, strawberries, lemon juice, cinnamon and maple syrup. Cook on medium for about 10 minutes until the fruit is soft.
Meanwhile, add 2 Applesnax packages to your HOLOS and mix.
Make the crumble topping by adding everything to a bowl and mixing.
When your apple pie filling is ready, layer it on top of your HOLOS, adding the crumble on top.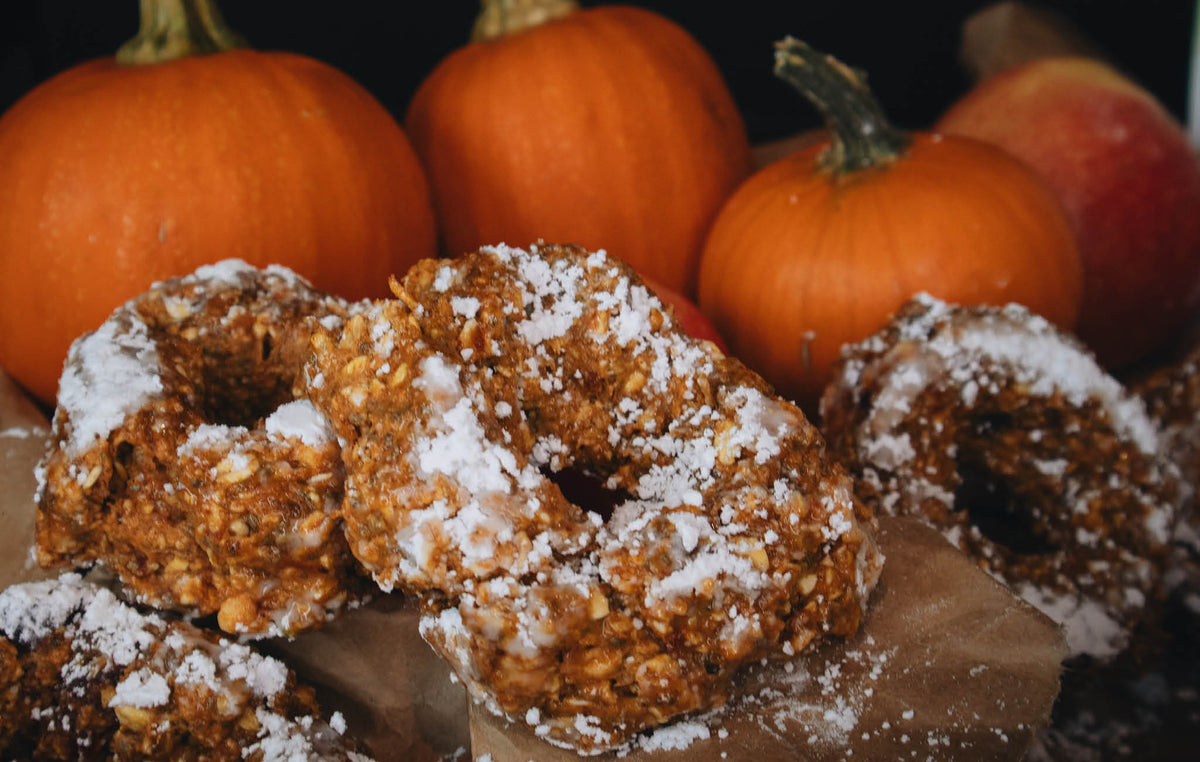 Pumpkin Spice Day Delight: No-Bake Protein Donuts Recipe
In honour of National Pumpkin Spice Day, we're celebrating with a delicious and cozy recipe featuring our beloved Apple + Cinnamon overnight muesli! These no-bake donuts are not only an explosion o...
Read more
All articles